Many of you may have read about parabens, dioxins, and endocrine disruptors that may play a role in influencing my Endometriosis symptoms (plus I'm a dirty hippy deep down inside). I've kind of been on this little crusade since last year to go through my personal products and read the labels and find alternatives that I like as much (if not better). Well, my little collection is growing and I figured I'd share what I've fallen in love with during this search. I've still got a few products in my cabinets that I'm looking to replace..but that'll come eventually.
I'm not being paid or compensated to do these reviews.  These are just products that I've discovered and truly enjoy and wanted to pass on the word.  As I bump into more products that I love, I'll continue to update this page with links and my thoughts…so feel free to come back and check it out.  More info on the products, including their ingredients, can be found on their respective links!
AND if you have a natural product that YOU love, drop the info in the comments section below (maybe I'll fall in love with it, too!) !
Cleansers:
Orglamix Dry Clean Daily Brush Cleanser: I use this pleasant-smelling spray to clean my make-up brushes after every use. It's a way of keeping them ungunkified between monthly washes. It contains a lot of essential oils, and a smidgen of alcohol. Runs about $12.
Seventh Generation Disinfecting Bathroom Cleaner – Made with essential oils, this all-natural disinfectant is a nice way to keep our bathroom clean and germ-free. This is meant for non-porous surfaces and I can't stop cleaning my toilet seat and counters anymore. 🙂 It smells great and makes me feel better about my home and health. Typically runs $4.30 a bottle, but you can find it cheaper at other sources.
Dental Hygiene:
Dental Floss by Desert Essence – I enjoy the Neem Cinnamint flavor, but they also make a Tea Tree version. Lots of essential oils to help kill the bacteria between our teeth and gums *yuck* And I hate flossing… so very much, but I feel better about doing it with this product. It's about $4.
Tooth & Gums Tonic by Dental Herb Company – my amazing holistic dentist turned me on to this stuff! Herb extracts, water, and glycerin…and that's it! And it's wonderful! It lasts forever because a little goes a long way, and gives me incredibly fresh (and bacteria-free) breath. It's about $30 for an 18-ounce bottle, but that bottle lasts me a few months. Seriously concentrated stuff. And you can have your dentist order you a free sample from their webpage!
Deodorant: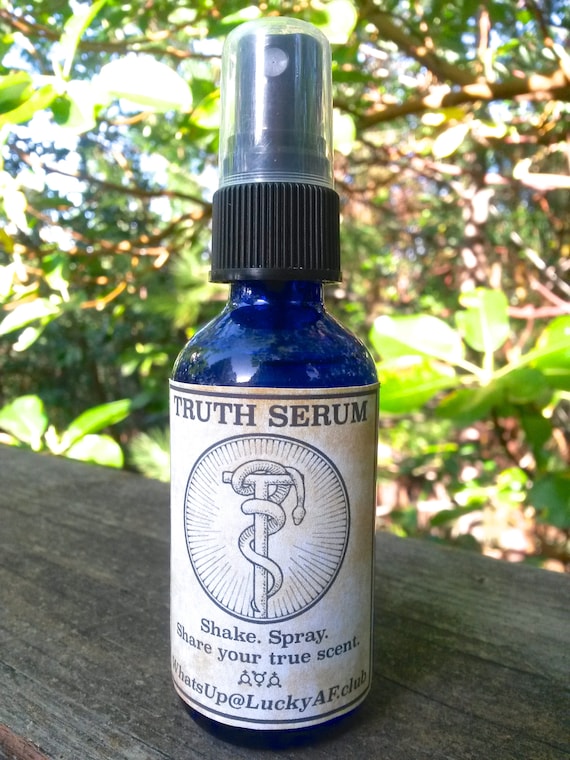 Truth Serum – I've found it! I've used this for almost a month and haven't had any bad reactions or issues. And better yet: it hasn't failed like deodorants in the past! Meet Truth Serum, a liquid spray you can buy on Etsy. It's made of mineral salts and essential oils, and the scent reacts differently for each person. It's $14 for a bottle, and I think I'm going to get two months out of this one. I love it. Love, love, love it. And a few friends of mine who use it love it as well. Be warned: it's not an antiperspirant, so you will likely still sweat. But even on hot days, I've yet to stink.
Feminine Hygiene:
Party in my Pants – all natural, handmade reusable cloth menstrual pads. I've now used these for several years and will NEVER go back to the old ways. ❤ I've also never had any "accidents" using these pads.
Laundry:
Verde Natural Laundry Detergent – I've used this for a few years now, too, and absolutely LOVE IT! No unnatural chemicals, they do a great job cleanin', and they last a long while.
Make-up:
Growing up, I never wore make-up. My cousin's boyfriend did my make-up for my senior prom, my friend did my wedding make-up when I was 21, and I've literally owned the same tiny travel case full of crusty, well-expired make-up for nearly a decade. I'm a Tom Boy, but am now beginning (in my late-30's) to embrace make-up and the fun of it all…plus I want to cover my zits…
Orglamix au naturel mascara – This is the first mascara I've ever tried that doesn't make my eyes burn. I told you I'm sensitive! HA! Anyway – I bought it in "espresso" and it looks fantastic! It has great coverage (I usually only need one coat), it doesn't clump or make those horrible little spider legs, and I don't find it on my face in the middle of the day in little specks of mascara-dust! It's not waterproof, so if you're prone to turning on the waterworks, may not be the best choice for you. But I'm hooked. It's $20 and it's not a full-size tube (but it's not small either)…well worth the money just so my eyes don't burn and I feel good about what's going onto my lashes.
Orglamix Chroma Lip Shift – I figured I'd try out this new product 'cause…why not? It's pitched as a color-shifting iridescent lip gloss…and IT is! I purchased the color Bewitchment, which is a blend of mauves, roses, silvers, and blues. This handy-dandy pen-type dispenser works with a spin of a dial and product fills the brush. Word of warning: don't add too much product to the brush! That was my mistake!! Smooshed it all over way too thick. Ha! BUT, just one or two clicks will suffice and a little goes a long way. I wear mine over my Fate lip gelee and it adds such a deep richness and subtle shimmer! And it feels super moisturizing and stays on well. I love it! And the little brush applicator is perfect! Keeps my finger clean, pop the lid back on, and keeps my purse clean, too 🙂 But at $19 a piece, the price is a little steep for me.
Orglamix eye primer – I had no idea what primer was…let alone that my eyes needed their very own primer! I tried bareMinerals eye primer, but found it gunky, hard, and sticky. Orglamix's primer goes on smooth, isn't sticky, and it's natural (my favorite part!). My shadow stays put all day, looks vibrant, and my eyes feel great. $15 for a 10g pot.
Orglamix eye shadow – I've tried the loose mineral eye shadow – very different than the packed shadows I played around with over the years. Tap a little into a lit, transfer to your brush (or finger) and apply. They also offer pressed or cream shadows. You can leave it subtle, or layer it on for a *pop* of color! There are oodles and oodles of shades to choose from…it's kind of a new addiction. $12 for a pot, or you can get a sampler (you choose up to 3 colors and get a brush set) for $22 here.
Orglamix HD powder – A finishing powder to lock make-up in place and make those fine lines and wrinkles disappear. This replaced my bareMinerals mineral veil. Also gives my skin an airbrushed appearance and smoothness. I love it! And if I get a bit of an oily sheen throughout the day, I just poof some of this on and *magic*…$24 for a 6.5g pot.
Orglamix Lip & Cheek Gelee – these two shades came to me as a gift. Incredibly smooth, creamy, hydrating lip and cheek tints. The colors are very, very subtle, despite their vibrancy in the pots…and I love them. And their scent is so light, yet pleasant. I've recently received the "Fate" color in an Orglamix Mystery Bag and I am infatuated with the color!! Runs for $18 for a 10g pot.
Orglamix lip balm -Okay…of all the products I've found since beginning my Natural Scavenger Hunt: these are my favorite. The most amazing lip balms I've ever tried in my life! And I consider myself a connoisseur of lip balms! These are incredibly hydrating, my lips feel rejuvenated and nourished, my lips don't peel AT ALL anymore, they're soft, supple, and movie star lips! The flavors are fun and incredible! You can get a grab bag of 5 random flavors for $16. I can't shut-up about these!
  Orglamix miracle worker color corrector cream – I received this as part of my Orglamix Mystery Bag.  It's a creamy concealer that hides discolorations such as blemishes, blood vessels, dark circles, and freckles.  Just a little dab'll do ya!  So far I really like it!
Sex!:
  Chiavaye Personal Moisturizer – aka an all-natural, vegan, gluten-free lube!  You can read my full review here.  I just love it.  A .5ml bottle runs about $10.  The 3.5oz bottle is about $30.  My husband loves it, I love it…it's well worth the price!
Skincare:
Orglamix Beauty Balm – Finally!! A facial lotion that doesn't leave me greasy by the end of the day! I LOVE IT! You can also blend it with your favorite loose powder mineral foundation to make a liquid foundation, but I haven't done that yet. This is awesome. Runs about $21 a bottle, which lasts me a month.
Dr. Bronner's pure-castile soap – I have loved Doc Bronners' soap going on seven years now! It lasts FOREVER! It's an incredibly versatile product (housecleaning and body cleaning!), and a little bit goes a really, really, really long way. AND minty-tingliness to wake me up in the morning.
Orglamix Beauty Box – A monthly subscription box of that boasts between 4-6 Orglamix products! Each one is a full-size product! And every month the themes are different! I received the March 2017 beauty box as a gift (squee!) and it contained 1) pineapple & papaya enzyme mask, 2) a bronzing hair/body oil, 3) a bath bomb, 4) a little pot of solid perfume, and 5) an eyeshadow pot. Items found in the Beauty Boxes are often limited editions and not sold on Orglamix's site. A subscription is $29 per month, but you get a discount if you pay for more than one month at a time.
  Orglamix Milky Jelly Cleanser – I've recently replaced my Andalou 1,000 Roses foaming facial cleanser for Orglamix's milky jelly cleanser.  I love that I can pronounce all of the ingredients!  It comes in a 1oz glass bottle (yay for not plastic!), and all I use is 2 squirts on my fingertips.  It comes out a thick cream, but you rub it on your face and it rubs into an invisible oil.  I gently exfoliate with a damp cloth and rinse will cold water.  My skin is soft, clean, and well-taken care of.  My first time trying this, I was doubtful…c'mon – it's OILY!  Um…nope.  I tested it by following my face wash with toner…and the cotton pad was clean and perfect.  Now I don't even follow-up with toner.  My skin is so happy!  $12 for the 1oz bottle and one bottle lasts me about a month.
Kovr Sunscreen – an all-natural sunscreen that does the job well!
Products that I'm still using (or at least using up) that I may eventually replace:
Sensodyne toothpaste (although I need this for my sensitive teeth, so not sure will be able to replace. On the plus side: no parabens!); and,
**Updated February 2, 2021**
If you noticed, I'm a bit obsessed with Orglamix…I can't help it : it's run by this amazing stay-at-home mom named Cheri who offers incredible (and very personal) customer service! And amazing, all-natural products. I love supporting small businesses…and becoming healthier at the same time!